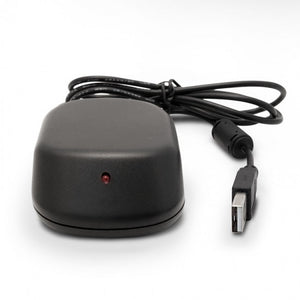 X10 USB Wireless Transceiver Computer Interface CM19A
BRAND NEW but OLD STOCK
X10 Powerhouse brand USB computer interface wireless transceiver model number CM19A.
Uses the same free FireCracker software as is used by the CM17A serial interface to transmit X10 RF signals right from your computer via an onscreen virtual PalmPad, DigiPad, or Slimfire remote.
Works with Windows XP, Vista, 7, 8, and 10 (32 or 64 bit).
Dim and control lights with your PC.
You can view the instructions online in PDF format by clicking here.
Shipping weight for one: 6 ounces.
---
This is the CM19A USB transceiver and computer interface. The USB PC Transceiver sends and receives X10 radio-frequency commands from your PC. Even though it is capable of receiving X10 RF commands, I don't see how to make use of that feature with the software.
Includes the following items:
Computer interface (CM19A).
Instructions.
Free software download. Click here to download the Free FireCracker software (for Windows XP, Vista, 7, 8, 10). Works on 32 and 64 bit systems. The CM19A uses the same software as the CM17A serial interface.
NOTE: Be sure to install the software before plugging the CM19A into your computer. Be sure your PC is connected to the internet before installing the software. You may receive 4 or 5 warnings about installing the software but tell it to install it anyways each time it asks. Then once it's installed, it will try to start, but you may receive a warning that it can't. Close it and then plug the CM19A into a USB port. Windows will automatically search for the correct driver and install it. It should come up with a window saying the USB compliant device has been installed--or something to that effect. Now you can click on the FireCracker application in programs and it should start. If it still won't start, reboot your PC and then try to start.

Compatible with all manufacturer's X10 products including those from but not limited to GE, IBM, HomeLink, Leviton, Magnavox, RCA, Radio Shack, Safety First, Smarthome, Stanley, X10, and X-10 PRO.
---
Class of X10 home automation device:
Transmitter/Controller/PC Transceiver
---
---