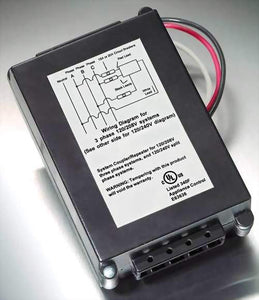 X10 Hardwired XPCR Home Automation Coupler Repeater Signal Booster
X10 Brand XPCR Coupler Repeater Signal Booster.
Permanent hardwired installation.
The XPCR Coupler Repeater Booster couples and boosts X10 signals on 2 and 3 phase AC systems. Repeats the boosted signal to all 3 phases at the same time regardless of which phase the original signal came from.
Recommended for homes over 3000 square feet or where ever you may need an X10 signal boost.
Boosts X10 signal strength up to 5 volts to end most problems with your X10 systems signal reliability.
Can be used for two phase (also known as split) 120/240 Volt AC and three phase 120/208 Volt AC systems.
LED status indicator blinks when X10 signals are detected and repeated.
Measures in inches: (L x W x D) 4.75 x 3 x 1.5
Rated for 120/208/240 volts AC, 60Hz.
You can view the instructions online in PDF format by clicking here.
Shipping weight for one: 9 ounces.
---
NOTE: You must be sure that you wire this correctly. If you do not, it will pop and will not function. I have personally connected this to 240 volts AC and have tested it to be sure that it is working. If you wire it wrong and blow it up, that is on you. I will not honor any warranty due to incorrect installation.
This is the X10 brand smart coupler repeater signal booster model XPCR. If some of your X10 modules don't work as reliably as they should, it may be due to reduced X10 signal strength. A minimum of 100mV (milli-volts) is needed for consistant reliable operation of X10 modules. Symptoms of weak X10 signal strength or phase coupling issues can be modules that can be turned ON but not OFF or OFF but not ON or that simply do not respond at all. Sometimes dim commands can dim too far or just so far and then stop or not at all. These can also be signs of a phase coupling problem or AC line noise.

The X10 PRO XPCR Coupler Repeater Signal Booster couples and boosts the signals to all phases of your AC to provide a more reliable and consistent X10 signal strength.

XPCR Coupler Repeater Booster
Wiring Connection Diagrams for 2 and 3 Phase Systems
3 Wire Connectivity for Split Phase AC:
RED: Connects to AC Hot phase 1
WHITE: Connects to AC Neutral
BLACK: Connects to AC Hot phase 2
BLACK: Second one isn't used.

Must be capped or taped off.

4 Wire Connectivity for Three Phase AC:
RED: Connects to AC Hot phase 1
WHITE: Connects to AC Neutral
BLACK: Connects to AC Hot phase 2
BLACK: Connects to AC Hot phase 3

Compatible with all manufacturer's X10 home automation products including those from but not limited to GE, IBM, HomeLink, Leviton, Magnavox, RCA, Radio Shack, Safety First, Smarthome, Stanley, X10, and X-10 PRO.
---
Class of X10 home automation device:
Phase Coupler/Repeater/Signal Booster
---
---