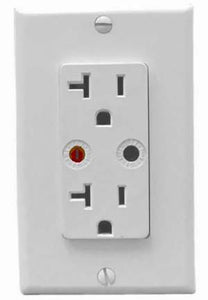 X10 PRO Home Automation XPR-W 20 Amp Wall Receptacle Outlet Module
---
X10 PRO brand Wall Receptacle Outlet module model number XPR-W.
Switches any type of electrical load up to 20 amps.
Can be used to control lamps, fans, air conditioners, heaters, virtually anything you would normally be able to plug into a regular outlet.
Both outlets are X10 controlled responding to the same address.
Responds to X10 ON/OFF and ALL UNITS OFF commands.
Has local control on both outlets. This means that you can turn on (without a remote) the device plugged into the module simply by turning the devices' own power switch on, off, and then on again.
Has a separate load wire (BLUE) that's X10 controlled to supply power to other outlets or switches. When the outlets are ON, the LOAD wire is ON. When the outlets are off, the LOAD wire is OFF. Local control also applies to the LOAD wire. So any other lights or outlets you have connected to the XPR-W's LOAD wire will have the same local control.
Rated for 120 Volts AC, 60 Hz., 20 Amps, 2400 Watts maximum. UL Listed . The total maximum amperage applies to both outlets and the LOAD wire combined.
Color is white. Wall plate is not included.
You can view the instructions online in PDF format by clicking here.
Shipping weight for one: 7 ounces.
---
This is the X10 PRO dual controlled 20 Amp wall receptacle outlet model number XPR-W. Works with an X10 transceiver module or security system base receiver for wireless remote control. This replaces any existing wall outlet. It has local control--meaning that you can turn the power to the outlet on by using the switch on the device that is plugged into it. Simply turn the switch on, off, and then on again and the outlet will then power on.
Four Wire Connectivity:
BLACK: AC Hot
WHITE: AC Neutral
BLUE: Load to supply power to additional outlets or switches. This must be capped or taped off if it's not being used.
GREEN: Ground
Compatible with all manufacturer's X10 products including those from but not limited to GE, IBM, HomeLink, Leviton, Magnavox, RCA, Radio Shack, Safety First, Smarthome, Stanley, X10, and X-10 PRO.
---
Class of X10 home automation device:
Receiver
---
---