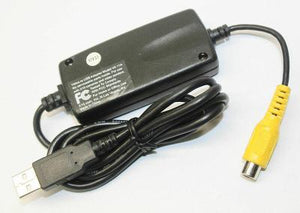 X10 USB Video Adapter Model Number VA11A
BRAND NEW but OLD STOCK
X10 brand USB Video Adapter model number VA11A.
You can view the instructions online in PDF format by clicking here.
Shipping weight for one: 5 ounces.
---
This is the X10 brand USB Video Adapter model number VA11A. With the appropriate software, you used to be able to view most any video source on your PC via a USB port.
Now for the kicker. I do not know how to use this and can offer no advice or help at all. There are no software or drivers that come with this. Just the adapter itself and that is all. When plugged into a PC's USB port, the PC recognizes that something has been plugged into it. Unfortunately when the X10 servers went offline in 2013, so did the software for this item. I do not know if this can even be used anymore.
If you can use this and would like to share the software for it, email it to me and I will gladly post it here on my software downloads page for everyone.
Includes the following items:
USB Adapter (VA11A).
Instructions.
Comes in the original box.
NOTE: There is no warranty for this item at all. It appears to be working as my PC "sees" that it has been plugged into it. Windows update can't find drivers for it and I know of no software available for it. That is all I know about this item. No software, no drivers, no help, no advice, nothing else. If you buy this, it is assumed you know how to use it.

---